MBA on Tap: Consultative Selling Demystified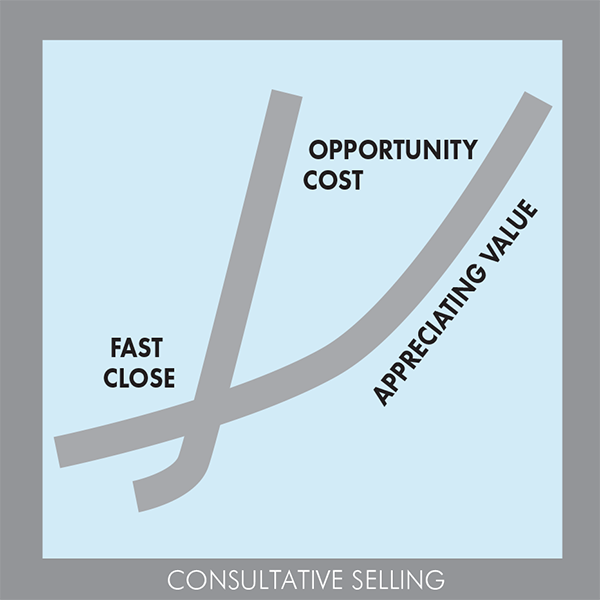 By offering returns that grow over time, a compelling PIP can motivate customers to close a sale as soon as possible.
As I left school with an MBA that included an emphasis in IT, I was fortunate to be presented with some excellent job opportunities. The one that intrigued me was a Sales Development Engineer position with Hewlett-Packard.
At the time I joined HP, they were hiring large numbers of technically degreed people and teaching them marketing and sales skills. I was fortunate: Among the HP curriculum was Consultative Selling, a four-day class taught by Mack Hanan. Mack had developed the principles he was teaching us at HP during his previous life teaching IBM teams how to overcome selling obstacles around technological weaknesses of some IBM equipment.
Mack had gained the then-novel insight that selling product features and benefits would lose, while selling the financial benefits that a business could derive from IBM equipment could win.
One of the most memorable lines from the class went something like this: "When a customer asks an IBM rep how the system being sold works, the rep replies, 'It works very well, and we've found that when companies like yours buy this system they are able to increase inventory turns by 20 percent—freeing up tens of millions of dollars of cash per year.' But when a customer asks an HP rep how the HP system works, the rep's reply is, 'It has a 16-bit CPU that runs and 100 megahertz with 120 megabytes of RAM and up to five gigabytes of on-line storage.'"
Mack stated that if HP reps could learn how to sell the relevant financial benefits, they would be unstoppable because HP equipment was so much better technologically. HP's technical acumen was an advantage. But consultative selling was the missing ingredient.
Consultative selling teaches that there are two types of sales reps: vendors and consultants. Vendors sell product features, compete on price, and generate low margins. Consultants sell relevant financial benefits, and generate more value for both customers and themselves.
A consultant delivers a PIP (Profit Improvement Proposal). There are two ways to increase profits: grow revenues or reduce costs. In order to increase profits, a consultative sales professional must:
Embrace the customer's KPIs (key performance indicators) as if they are his or her own;
Convert a customer's cost of doing business into a returnable investment; and
Share the customer's risk in every transaction—put "skin in the game."
When a customer buys a PIP, it is of paramount importance that the PIP outline a measurable gain for the customer. The difference between a vendor and consultative sales professional is the difference between delivering a widget and delivering a profit—and what a gratifying difference that is.
We've created a printable, sharable tool to help guide you in leading your own team exercise around creating a PIP.
Brad Surkamer | May 17, 2016
---