Happy Halloween from CLM!
We love Halloween. In years past, we've pranked each other to steel ourselves for the goblins and ghouls to come. But for the benefit of our collective blood pressure, this year, we decided to take a different tack. I asked everyone in the office to send me their top Halloween memories and collected them below for you all to enjoy.
Danielle: As a kid, candy didn't seem worth the trouble of having to come up with a costume that I'd then hop around in uncomfortably all night. (I was born a fuddy duddy.) So my favorite part of Halloween was carving pumpkins. Every year, we'd try not to stab the pumpkins all the way through to the middle, but we failed and ended up being able to see the candle inside. Luckily, we consoled ourselves with pounds of roasted pumpkin seeds that we all ate ravenously until the candy was harvested.
Brad: My mom always helped us make our costume, and my grandparents would come to make it a real family affair. Once we all got together, we had homemade donuts and caramel apples. I can taste them now…
John: My favorite Halloween memory was the year my daughter and I grew a 220-pound pumpkin in the backyard and carved the words "Think Big" into it. It was the biggest jack-o-lantern in the neighborhood, making it a target for the neighborhood kids. By the end of the night, it was stomped to pieces—that was the best part!
Hayley: My mom handmade a Hershey Kiss costume when we were young, a huge fluffy foil outfit complete with a silver hat with the little paper flag on top (which is apparently called a Nigglywiggy, no joke). She was so proud of the costume that my sister and I were forced to alternate wearing it for about six years. We were so embarrassed. Once we were older we started to find it funny and I ended up winning a costume contest in high school. Thanks Mom!
Jarred: Every kid in Boise needs to Trick or Treat on Harrison Blvd. at least once in their lifetime. 17 years ago we lived in an apartment on Bogus Basin road, just north of Harrison. Taylor's grandpa (my dad) dressed up as a clown and took our little ballerina to brave the cold and crowds. At the time my wife was 9 months pregnant and we thought J.T. might be the big the treat of the night. As it turned out, he waited until November 7.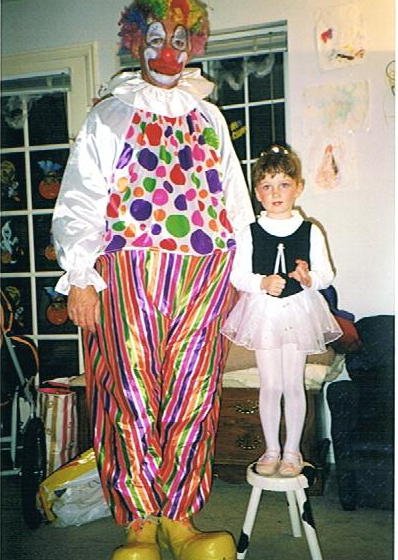 Oscar: My favorite Halloween tradition is being able to watch Hocus Pocus with some delicious popcorn. Nothing beats getting ready for Halloween by watching a classic.
Mike: I loved Halloween so much as a kid that I'd frequently have dreams about it, only to wake up and realize it was February or March. One year, my mom made me an amazing E.T. costume that I wore for three Halloweens in a row. These days, my favorite memories are making homemade decorations for the house and yard with my son. He too is obsessed with Halloween, so we usually start preparing in early September!
Joelle: I have an older brother and his pumpkins ALWAYS looked way better than mine. But one year, my mom helped me carve out an owl, and it was awesome. I'll never forget it.
We hope you have a memorable holiday with tons of family fun. From all of us at CLM, Happy Halloween!
CLM | Oct 30, 2015
---