MBA on Tap: Igniting Growth—5 Minutes. One tool. Go.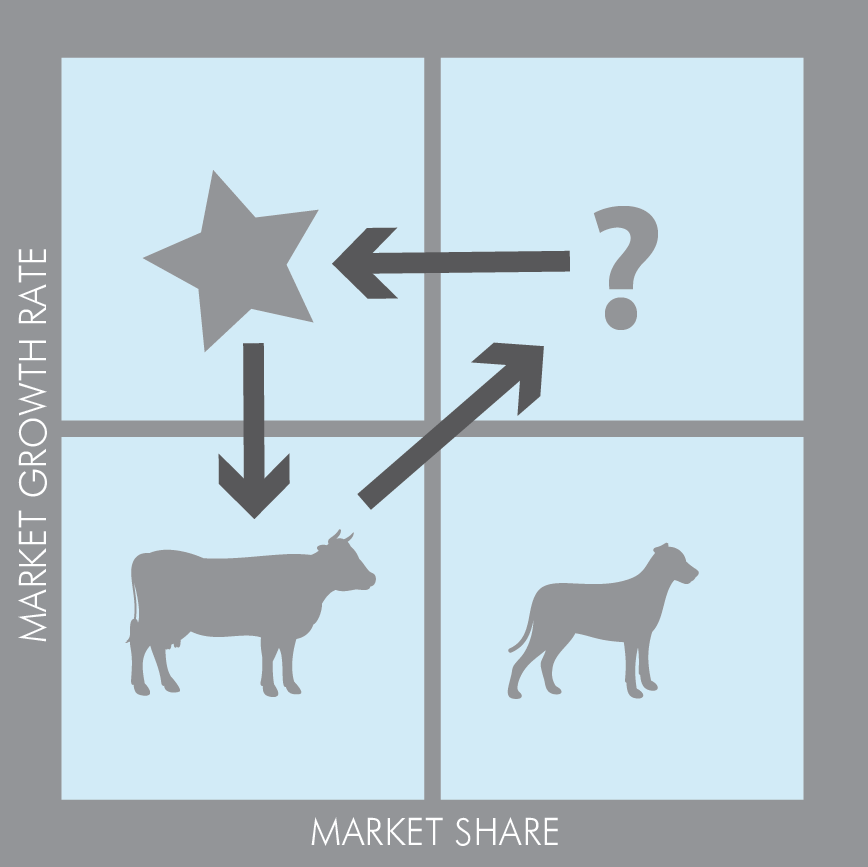 Over 30 years ago in MBA School I discovered The BCG Growth-Share Matrix. This model was developed in the 1970s by Bruce Henderson of the Boston Consulting Group. Often replaced over the years by more detailed (and complicated) models, it remains an elegant thought starter for growth challenges of all kinds.
The arrows in the diagram shown sum it up at a high level: take cash from products or services in which the company has a relatively high market share in a low growth market, a so called Cash Cow.
Don't take too much cash: keep the Cow producing for as long as possible. But invest this in a Question Mark product or service—one where the share is relatively low but where market growth is high. Invest enough in this Question Mark business to gain share and become a Star, where share is relatively high and the market is growing. Inevitably, markets mature and growth rates slow and the Star business becomes a Cash Cow.
One of the basic rules of this model is it is less expensive to gain share when markets are growing; inversely, it is expensive to grow share when markets are mature and growth is slowing.
Because of its simplicity, the Growth-Share model can be applied broadly—to develop growth strategies across divisions in a company, product lines, customers, geographies, and on and on. For example, a company whose customers are baby boomers whose spending is beginning to slow should consider reducing those marketing dollars to an optimum amount. The reduced amount should then be invested in newer high growth millennial customer segment.
CLM has put together a simple, sharable, printable tool to help you explore and discuss how this model might work for your team.
Brad Surkamer | Oct 13, 2015
---