MBA on Tap: Jumping Into Change
Change is difficult, but without it, we're left in the dust. As we step into the thick of another political change, I wanted to share a few thoughts on the nature of change in business, and how to accelerate the transition process from the inside out.
Big changes in business come from both positive and negative factors. But no matter what the impetus—a merger or acquisition, the launch of a breakthrough new vision or product, external economic, political or technical forces—both positive and negative factors will inevitably rise to the surface as a result.
So how does a leader mitigate the negative and accelerate the positive during this process? First, don't sit there like a bump on a log, waiting to act. Jump in.
That tip comes from Five Frogs on a Log: A CEO's Guide to Accelerating the Transition in Mergers, Acquisitions, and Gut-Wrenching Change by Mark Feldman and Michael Spratt. This title comes from a child's riddle: "Five frogs are sitting on a log. Four decide to jump off. How many are left? Answer: Five. Because deciding and doing are not the same thing."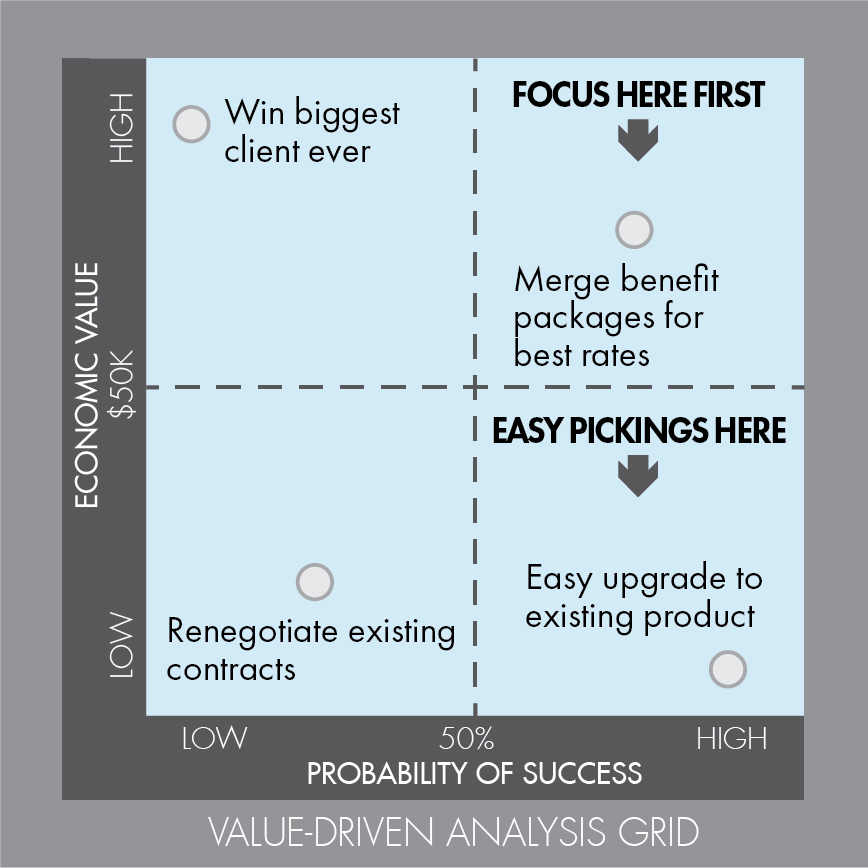 I first read this book in 2003, right after I bought a small media-buying company in Boise, Idaho. Financially-driven, pragmatic, and results-oriented, the book offers several approaches to accelerating change.
Since then, I've used the principles when consulting with clients about making the changes need to accelerate growth. I've purchased and passed off more than 20 copies to business-owner friends making a big leap when buying or selling their companies or reshaping their core visions. I've re-read it again and again—most recently when the marketing giant Ivie & Associates out of Texas acquired CLM Marketing & Advertising.
The process to get started is relatively simple: Get key department leaders together. Define the potential tactics that can increase stakeholder value. Plot those tactics on a matrix that charts the economic value and degree of difficulty. Then prioritize, select, and assign owners to a critical few tactics. You can't do them all, but you need to jump right in.
Next comes the real hard part. Executing the change strategy, and creating new value. Change is hard. When people are left to their own devices during a period of change, they often gravitate towards negative thoughts. To rally troops to the cause, leaders need to communicate, again and again, the value created from the change.
Download a change-maker checklist and how-to guide in our printable, shareable companion tool.
Brad Surkamer | Dec 8, 2016
---