Launching the Next Big "Thing"
Getting into the swing of things at a new job is always an interesting process, but as the new senior account executive at CLM, that learning curve took on a whole new meaning. My first account, Toumetis, launched me into the fascinating world of the Internet of Things. Ever heard of it? In a previous post, our resident tech-xpert writer and creative director John Liebenthal explained the phenomenon better than I ever could, but I think the impact of this new industry can still be best summed up in the words of our client Mark Willnerd.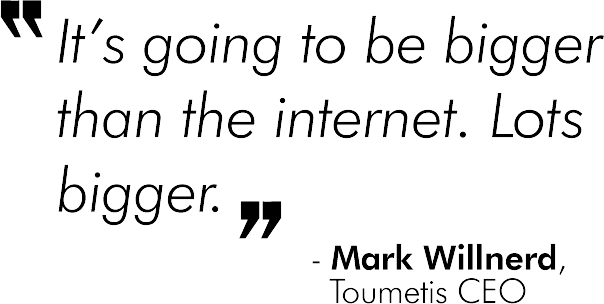 Why? Because big things come in small packages. Especially when those packages are sensors placed on every object imaginable—enabling them to communicate what's happening in real time, in incredible detail. For example, a car engine sensor could signal to a mechanic that a valve repair is needed. A public recycling bin sensor could signal to a municipality worker that it needs to be emptied. An oven sensor could signal a homeowner that the stove was left on—allowing her to turn it off with a smartphone. The possibilities, especially for productivity, are virtually endless.
This data is incredibly valuable, but without an efficient way to sort through the haystack to find the needle of vital information, it's virtually useless. That's why Toumetis created Cascadence—a super-efficient software platform that puts machine learning and data analytics capabilities at the sensor level.
So yeah, fascinating, right? But not exactly easy subject matter to jump right into. Luckily, I speak engineer, and I speak digital, with practiced bilingual fluency, due to my time on the corporate communications team at Power Engineers and as the digital lead at Oliver Russell. So the first task I was faced with—launching a new website for Toumetis that told the story of Cascadence and the company's evolution beyond its mobile development roots—came right up my alley.
Thanks to our brilliant design, writing, and programming team here at CLM (with a mega shout-out to Nicolet Laursen), I can now say I helped launch the next big thing. See the new Toumetis site for yourself.
After this, I can't wait to see what the future holds next.
CLM | Oct 17, 2016
---