MBA on Tap: Lifecycle Marketing, and Crossing the "Chasm"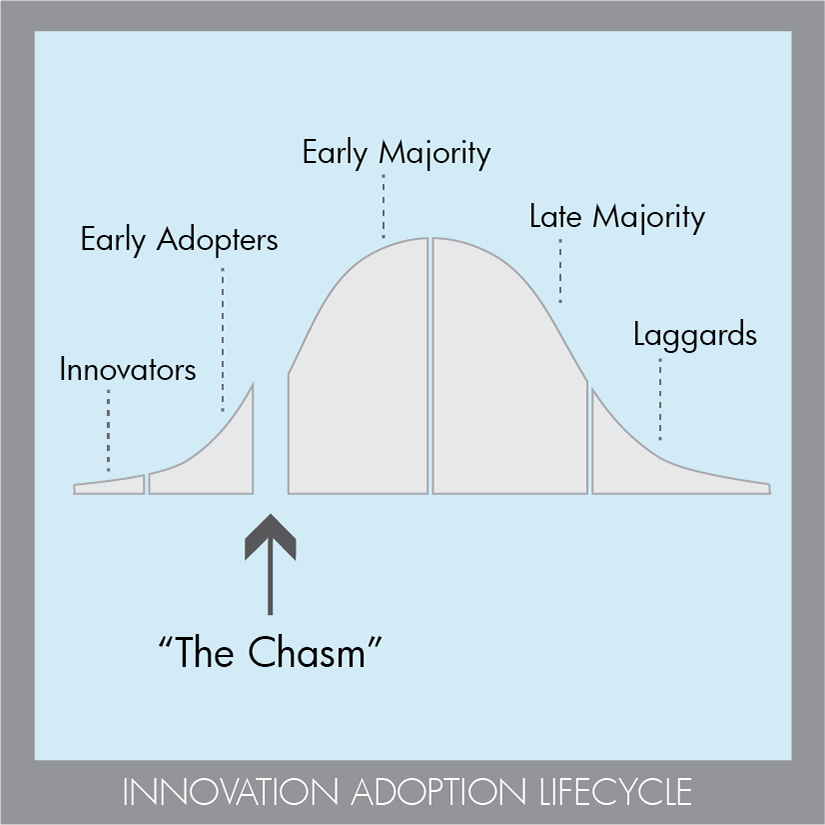 Marketing professionals often fall into the trap of seeing a product market as a known quantity—an "it" that once identified, must simply be targeted and captured. But the reality is that product markets are living, breathing creatures that are constantly evolving. If you don't recognize that the market for your product is shifting, you might be missing out on a valuable business opportunity.
Several months ago, CLM began working with a new client, an early-stage consultancy firm. We started to develop a strategy the way we normally would: by looking at the market climate and demand for the firm's services.
A little digging revealed that the technology itself was still nascent in the industry. The few customers employing it were innovators that saw the advantage of it over traditional methods. They were willing to take risks with this technology to give their companies an early advantage.
As those early-stage innovators began using this new technique, some powerful value proof points began to emerge, and our client repeatedly mentioned that their customers and prospects were coming to recognize the method's true value. New customers were no longer asking why use it, but how to do it themselves with this company's help.
We were witnessing in real time a classic marketing scenario described by author Geoffrey Moore in his best-known work, Crossing the Chasm. Originally published in 1991 and most recently updated in 2014, Crossing the Chasm is a classic on the principles of life cycle marketing. In it, Moore describes what factors move a product market from an early innovator stage to more of a mainstream market, how to identify that shift as it occurs, and what to do when it happens. It was time for me to brush up and refresh the lessons I had learned decades prior in the technology business, so I bought a new copy of the book.
The strategies to market products or services to early adopters and innovators are very different from the marketing strategies for mainstream markets, because the characteristics of customers in each market differ. Early adopters are visionaries and change agents, who buy new products and services to find breakthroughs for their companies. Customers in emerging markets do not rely on well-established references in their buying decisions. By contrast, early majority customers are more risk-averse, more pragmatic, and rely on well-established references. The goal of an early majority pragmatist is to make predictable progress with measurable, incremental improvements.
This "chasm" between innovator markets and early majority markets must be crossed, requiring a different marketing strategy. But because the size of the opportunity in a majority market is significantly larger, it's well worth the work required.
In life, as in business, the only thing that's constant is change. So from time to time, it's important to come out of the weeds to notice how your market is changing. If you're sensing a chasm emerging between where you are and where your market is headed, your business success depends on developing and executing a strategy to help you cross it. With the guidance of Crossing the Chasm, I've developed a strategy check-list to help you do just that. Find it in the downloadable tool below.
Brad Surkamer | Nov 7, 2017
---