On the Road with Triplets, Kid Wranglers, and Commercial Tire
It started with a Facebook post. After experiencing a total car breakdown during the "snowpocalypse" in Boise this winter, a dad (named Chad) wrote about his experience with Commercial Tire. It was just a quick post to friends recommending the place that he trusts to keep his family on the road—and that resurrected his stone cold dead car faster (and at a better price) than he imagined possible.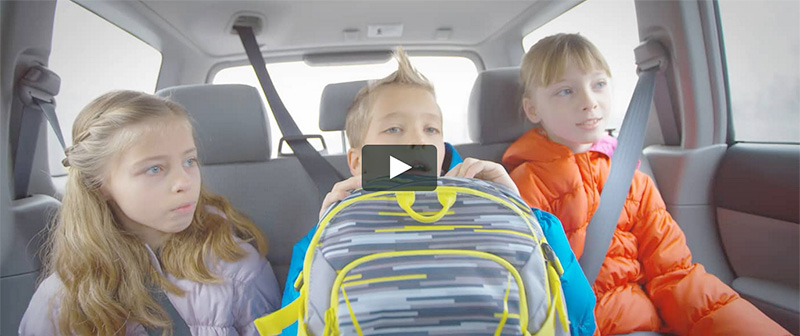 Little did we know that the full story would be so much more dramatic. After someone on our crew at CLM spotted this post, we contacted Chad. Over lunch with him and his wife, Kate, we heard a miraculous tale of triplets, cancer, and going down an inspiring new road. That's when the lights (then camera, and action) went on.
For years, Commercial Tire has been driven by the motto, "Keeping you and your family on the road." Late last year, we turned that slogan into reality by launching a testimonial campaign for this client under the banner headline, "We keep this family on the road, too." The aim? To tell the real compelling stories of the remarkable families that rely on Commercial Tire—and what staying on the road actually means in the greater context of their lives. Not only would we produce a 30-second spot, but a two- to three-minute short film that would tell the full story of each family.
Spending the day with Chad, Kate, and a crew of super adorable nine-year-old triplets was a real treat. But seeing the end result? It's maybe the sweetest, most touching piece I've ever worked on. Two 30-second spots (see them both right on this post) are now airing throughout the West, driving people to a microsite—commercialtirefamily.com—where they can watch the full story. In just a few days, this site has already been shared nearly 80 times on Facebook alone.
Sometimes advertising can go the extra mile, and not only sell a service, but tell a meaningful story that helps deepen and define a brand. As this campaign progresses, we're excited to continue to share the gripping stories of the wide range of incredible people Commercial Tire keeps on the road. So keep us posted if you see any good Facebook recommends.
CLM | Mar 24, 2017
---