Putting "Authentic" Branding to the Test
Disingenuous advertising is easy to spot. It rings false. It falls flat. Especially lately, it makes you roll your eyes and complain to your couch-mate about companies trying to make bank off of a worldwide pandemic.
Authentic advertising is about action, but it's not reactionary. It's not usually packaged in an over-produced 30-second TV spot put together in the wake of a crisis. It's about having a real point of view, year after year, and living it out loud.
Case in point: Flying Pie Pizzaria. Through humor, out-of-the-box ideas, and an unyielding dedication to "repeatedly excellent experiences," the Boise-baked pizza chain had kindled a warm place in the hearts of Idahoans (and beyond) over the course of 40 years. But, lately, that brilliant brand had been dimming into a "just another pizza place" vibe, complete with generic direct mail deal flyers.
We were thrilled when Flying Pie came to CLM. And we grew even more excited as we waded through everything from old employee manuals to decades of hand-drawn comment card art created by guests. The OG brand told us what to do. From deep in those historical boxes, the brand was basically asking us, like a cheesy Joe Cocker duet, to "lift us up where we belong…where the pizza's fly….on a mountain high."
We started with a brand book. This brand field guide is about more than how your logo looks and what colors to use, it's about the heart of your business and what makes it tick. It needs to speak and look and mean exactly what you want your brand to be. We brought in customer art, humorous old marquee sayings we redubbed "Flying Pie Sound Bites," and the spirit of tongue-in-cheek fun always infused throughout the Flying Pie experience.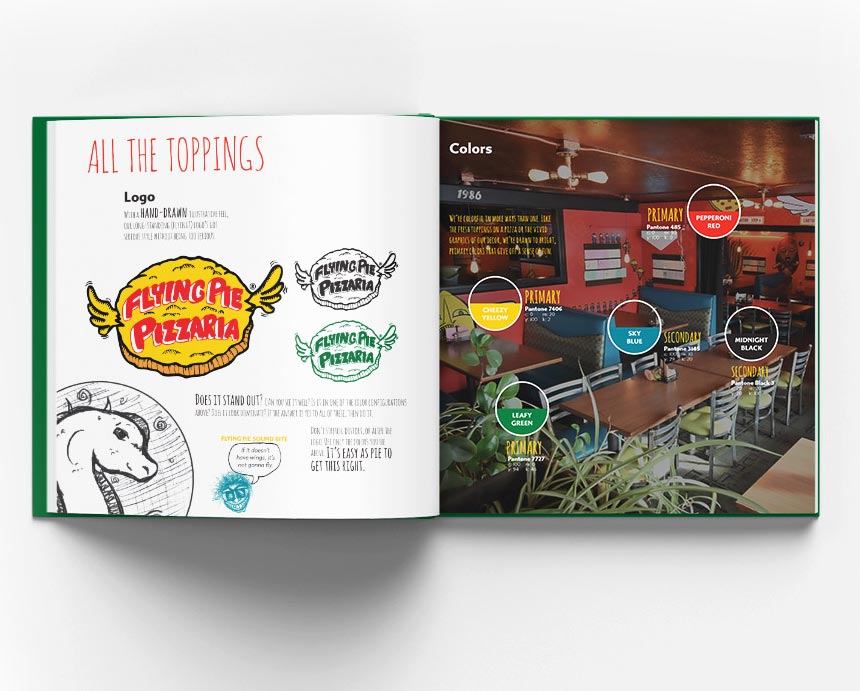 Every lucky soul to get their hands on the brand book—from employees to vendors to management—will be able to get on the same page and live the same brand in a few page flips. And it helps every marketing creation that comes next—from a menu to a pizza box to social media—bake in and boost that stand-out brand.
Since then, we've redesigned the menu (harder than it sounds, but so critical), launched a new website, and overhauled their social media presence. But we also focused on Flying Pie's long-held position of doing a little magic in the community (case in point: Flying Pie put the exclamation point on the Boise Library). We helped dream up and launch a monthly local-focused fundraiser initiative geared to give back to the community in big and small ways. From helping a single mom with a car repair to funding an Idaho nonprofit, it's about making a real difference. On the regular.
So how do you build an authentic brand, no matter what? Know what you really stand for, deep down. Live that way in real life. Then speak to it, loud and proud (with a big assist from CLM).
---
How's your brand doing?
It's never a bad idea to get an outside perspective on your brand. Show us your brand today, and we'll offer insight on how to boost its power and get results.
Max White | Jun 5, 2020
---