MBA on Tap: To Win New Business, "Be All In"
Last spring, the senior leadership at our parent company, Ivie and Associates, asked me to give a talk to a group of managers about the process I use for winning new business. When boiling down my new business-building methodology, I realized how essential not only "networking" can be on a local level, but networking in your community with passion, purpose, and intention. In other words, networking with everything you are and want to be.
So, for my two-hour talk, I distilled my "get in it to win it" process down to the 4 'Be's: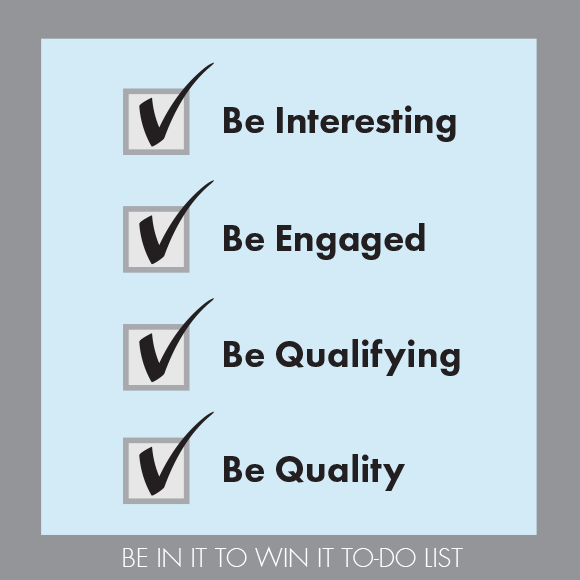 Be Interesting
Successful people like to spend time with people from whom they can learn. In the book, A Technique for Producing an Idea, James Web Young talks about the importance of constantly enriching oneself with knowledge and life experiences. In our ever-busier lives, it's not always easy to take the time to learn and grow, but it's a critical component of success.
Be Engaged
A great way to get to know business leaders in your area is to get involved in nonprofits that benefit your community, especially in the role of board member. Find a group to join that aligns with a passion you have, and take note of other volunteers dedicated to the cause. Would it be beneficial for you to spend time with them, too? As you become more engaged, you'll develop relationships and learn about problems or opportunities that you can use your skills to help solve.
Be Qualifying
As you get more involved in the community, listen actively and empathetically to make the most of your new relationships. Take note of potential business opportunities along the way, then qualify them by running through a quick checklist (find more in the companion tool). Ask yourself: Is there an opportunity? Can I compete? Can I win? Then finally, the most important question of all: is it worth winning?
Be Quality
Several years ago, I worked in a technology company that was rapidly expanding across the globe. At the same time, several of our Fortune 1000 customers began asking us if we were ISO-9001 certified. This certification by the International Standards Organization helped prove that a company had a quality management system in place to, in turn, deliver products of consistent quality. This stuck with me. A standout company defines and follows quality processes in order to meet high standards and constantly improve on every level. In other words: they say what they do, and do what they say.
Even though I teach business seminars, I like to take them too. After all, it's always good to sharpen your sword. In one I attended a few years ago, the seminar leader defined a business relationship as, "I like you and I trust you." In the end, people want to do business with people they like. Ideally, they want to learn and grow from the relationship. Inevitably, they count on you to say what you do and do what you say.
In other words, when you can be all in, that's how you truly win.
Brad Surkamer | Aug 30, 2017
---