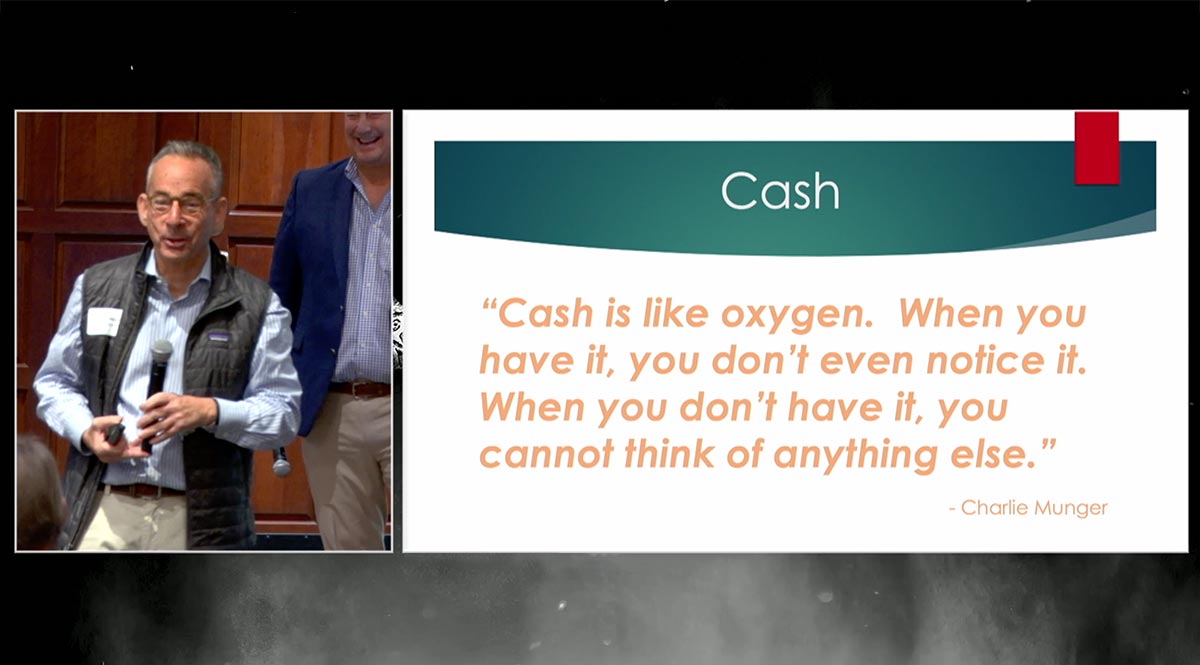 As the Wheel Turns: 4 Key Insights from a Serial Entrepreneur with Consistent Success
To begin the 2021 Fall edition of Dog Eat Hog, Geoff Surkamer reminisced about his first job out of college with a startup company and how his boss and founder of the company, Scott Wald, impressed upon him the values of running a successful business. Geoff's job was as a salesman for Scott's burgeoning software distribution business that would eventually become the largest distributor of Microsoft products in the world, but in its early days, the company needed everyone to be scrappy and curious. Geoff remarked on how Scott's leadership was laser focused on consistent growth, and he learned from Scott how to hone his senses to be on alert for any areas of opportunity.
"He would say things like, 'Somewhere, someone is buying the same product that you sell; why aren't they buying it from you?'," Geoff remembered. "Then he'd say, 'well go figure it out. Pick up the phone!' And I'd start asking questions and getting answers."
For the past 30 years since those days, Geoff has ascended to various executive roles in the software industry, including CEO, and credits Scott for putting him on a reliable path to success at an early age.
For Scott, that startup, ASAP Software Express, sold for a nine-figure valuation and set off his career as a serial entrepreneur. He's founded or co-founded eight startups in his life and credits seven as being successful, some of which grew enough to be publicly traded companies.
In his presentation to guests at the Arid Club and those who caught the live stream, Scott introduced his "Wheel of Fortune" that outlines how he's been able to find a repeatable method anytime he starts or invests in a new business. The wheel demonstrates four main areas for business leaders to focus on: product/service, orders, cash, and distractions.
"Most people learn about business like it's a linear path—in our experience it's been exactly the opposite," Scott said. "We show it as a wheel because that's how the world works. These ideas have to work together—and the better they work together, the faster the wheel spins."
The four spokes of the wheel
#1: Love, for your product and for your early adopters.
You must love your product and find others that feel the same.
Whether launching a new product or starting a new business entirely, the first problem will always be that no one knows about your product. And even worse, no one really cares—it's your job to bring the message to them.
Scott has learned to have great appreciation for the early adopters of his products because they're going to light the fire that starts moving product forward. "Likes" are not enough, businesses should strive for "love" from their customers. And the road from a few loving customers to thousands or millions requires a special brand of persistence and mental toughness.
"The one thing all great businesses have in common is a great product or service," Scott said. "If your product is not great, nothing else will save you in the long term."
#2: Orders, the rhythm of growth.
"I love orders," Scott began.
He clarified "orders" to be anytime a customer parts with their money. Orders are what is required to get into a "rhythm of growth." What challenges entrepreneurs, however, is the fact that orders often cannot be controlled. You get to choose what you work on every day and how you spend your cash, but the buyers decide when your product is ready for them to purchase. You must be constantly asking yourself, "what did I do to earn the order?"
Objections to your product or business are valuable insights. Objections tell you customer's concerns and what is limiting your business, and what needs be improved.
Bottom line, when orders are strumming a steady rhythm of growth, you're able to attract good hires, customers get excited, and investors want to get in on the action.
#3: Cash is King.
In the words of Charlie Munger, right-hand man to famed investor Warren Buffet, "Cash is like oxygen. When you have it, you don't even notice it. When you don't have it, you cannot think of anything else."
Living on tight budgets will overwhelm your every thought. "If only we had more money," is a cry of many entrepreneurs, and there is a simple answer: do more with less. Scrappiness is an essential value no matter what stage of operation. You can never have enough resources to take care of your employees and continue moving product.
Finding investors will also require a lot of time and cash. Once your pitch is strong enough, seek out investors that provide the cash amount you need but also add value as mentors or business partners. Remember that investors have no reason to give you what you want right away, so be tough and keep your options open to leverage the right deal for your business.
#4: Distractions, and the 'maniacal' focus required to avoid them.
The last spoke in the wheel is necessary to keep the other three in balance. Distractions are anything that do not directly correlate to moving products forward, producing orders, or generating and preserving cash.
In Scott's words, being an entrepreneur requires a "maniacal" level of focus and intensity. Type-A personality might not even be enough—try type triple-A. It can be lonely and it's not an all-nighter where you can bluff your way through the exam. Expect a grinding process that requires leaders to perform many roles and to operate on a nonstop schedule.
But there's also a fine line Scott refers to as the "reality distortion zone." Entrepreneurs who go into 'hero mode' and believe they can be the source of every solution can fall victim to mistakes. Hire people with complimentary skills to fill the voids in your own expertise and allow them to help and bring new ideas.
Ultimately, success will require you to give up what you like—but hopefully, it should be in service of doing what you love.
FOR THE FULL SCOOP, SEE GEOFF AND SCOTT'S DOG EAT HOG:
Sign up to stay tuned for future events and happenings.
CLM | Oct 15, 2021
---